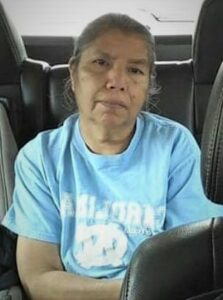 Freida W. Panther, 62, of Cherokee, passed away Sunday, Nov. 4, 2018.
She was an avid UNC fan, white oak basket maker, and an enrolled member of the Eastern Band of Cherokee.
Freida was preceded in death by her parents, Simpson Welch and Agnes Lossiah Welch, and one brother, Sam Welch.
She is survived by her husband of 44 years, Floyd E. Panther; her children, Virgil Panther (Marie), Janell Panther, Roberta Panther McCoy (Carl), Sharri Panther, JR Panther, Alma Panther, Kyna Panther, Darius West (Samantha), Kelsey N. Crowe (Rolo), and Bekah Panther; she was a loving grandmother, which they called her "Nana", to: Carl "Mater" McCoy, Adam Panther, Ayden and Alyssa Queen, Hallah, Kedrick, Qinyen and Joseph Panther, Jax and Jex Panther, Tye and Shane West, Sophie, Chloe, and Loshi Crowe, Perry Arkansas, Damian Blanton, and Brennan Laney; also survived by two great grandbabies, Keagan Arkansas and Kaius Blanton; brothers from Cherokee, James Welch (Donna), Joe Welch (Totsie), Jesse Welch, Davis Welch (Doolie), Charlie Welch (Pat), Abe Welch (Brittany), Tommy Welch, and Mickey Welch; two sisters, Mattie Wildcatt and Sharyn Panther (Sam); and several nieces and nephews from the Panther and Welch families.
A visitation will be held on Thursday, Nov. 8 from 5 p.m. until 11 p.m. at the Straight Fork Baptist Church.  Funeral services will be held on Friday, Nov. 9 at 1 p.m. at the Straight Fork Baptist Church.  Pastor James "Bo" Parris will officiate.  She will be taken home on Straight Fork Road where she will be laid to rest.  Pallbearers will be nephews of the Welch / Panther family.
Long House Funeral Home is assisting the Panther family.