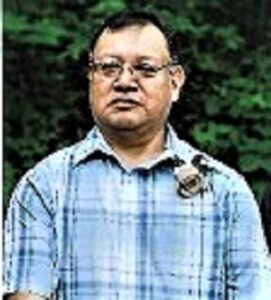 Edbert Wilson Walkingstick, 60, of Cherokee, passed away Tuesday, Nov. 6, 2018.  He lived on the 3200 Acre Tract and retired as transportation coordinator at Dora Reed Headstart after 35 years of service.
Wilson was preceded in death by his father, Russell Walkingstick; a brother, Allen Walkingstick; a sister, Juanita Hornbuckle; and grandmothers, Ollie Jumper and Alice Walkingstick.
He is survived by his wife, Jonnie Walkingstick; his mother, Annie Arch of Cherokee; two sons, James "Woody" Walkingstick (wife Brooke) and Stephan Walkingstick; one daughter, Shelly Head of Shelby; grandchildren, Melina of Shelby, Zoey and Kale (Buzz) Walkingstick of Sylva and their mother Brandy Rattler (husband Jon); one brother, Mike Walkingstick (wife Joann); three sisters, Martha Sampson of Whittier, Margaret Walkingstick of Cherokee, and Melinda Walkingstick (Agustine) of Whittier; and many nieces, nephews, cousins, one aunt, and friends also survive.
Visitation will be held on Thursday, Nov. 8 from 6 p.m. until 9 p.m. at the Boiling Springs Baptist Church in Whittier.  Funeral services will be held on Friday, Nov. 9 at 3 p.m. at Boiling Springs Baptist Church.  Pastors Gil Breedlove and Dan Conseen will officiate.  Burial will follow at the Birdtown Cemetery.  Pallbearers will be Woody Walkingstick, Stephan Walkingstick, Austin Sampson, Stanley Ledford, Kurt Stewart, and Tim Hull.
Long House Funeral Home is assisting the Walkingstick family.