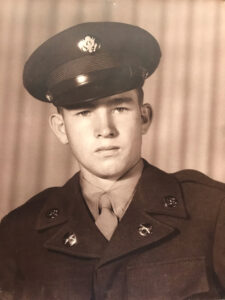 George Henry Lambert, 89, of Cherokee, passed away on Wednesday, Oct. 31, 2018 after fighting a brief illness.  He was among his loving family.
George was the son of the late Joseph Lambert Sr. and Louisa (Goforth) George and was a member of the Sequoyah Baptist Church in the Big Cove community. George served in the U.S. Army and retired with more than 24 years of service.  George was known to stay busy following his military retirement.  He attended classes back home through Southwestern Community College and obtained an Associate's Degree in Masonry.  He worked for and retired from the Cherokee Historical Association in many functions.  He later worked for Franchise Enterprise, Inc. providing maintenance services for Hardee's Restaurants throughout the southeast.
George is survived by his wife Peggy R. Lambert; daughter, Theresa Frasher (husband Harold) of Cherokee; son, George Brian Lambert (wife Roberta) of Racine, Wisc.; and daughter, Jennifer Blanton (husband David) of Whittier; 10 grandchildren; and 11 grandchildren. He is also survived by his brothers, Joseph Lambert Jr. and Samuel Lambert; sisters, Nellie Lambert and Mary Blackwell; and by his beloved dogs, Lola and Sassy.
George was preceded in death by his father, Joseph Lambert Sr.; mother, Louisa (Goforth) Lambert; brother, Raymond Lambert; and his sisters, Rachel Hornbuckle, and Pauline Owle.
A visitation will be held on Saturday, Nov. 3 at Bethabara Baptist Church from 12 p.m. to 1 p.m. with the funeral service to directly follow at 1 p.m. Pastor Tim James and Rev. James "Bo" Parris will officiate. A burial will follow the funeral service in the Birdtown Cemetery with Military Rites honoring George's service to our Country. The following gentlemen will act as Honorary pall bearers; Dylan Woodard, Jeffrey Marley, Wyatt Woodard, Aaron Lambert, Brent Ammons, and Jesse Blanton.
Long House Funeral Home is assisting the family with final arrangements.