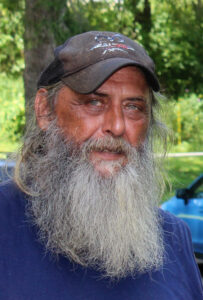 WAYNESVILLE – Robert Lee Goodson, 62, passed away at Mission Hospital on Monday, Oct. 29, 2018.
He was preceded in death by his parents, John and Leona Locust Goodson; brothers, Tony and Steve Goodson; great granddaughter, Isabella Jacobs; one niece, Silvia Ann Goodson; nephew, Michael Dillon Goodson; great niece, Karla Buchanan; and his grandparents, Homer and Hazel Locust, John Fannon Goodson and Lucy Inman Shuler.
Robert is survived by his fiancée, Leigh Pettus; daughters, Cynthia (Johnny Reece) and Crystal Goodson; brothers, John Michael (Sheryl) Goodson of Sylva and Randy Darrell (Cindy) Goodson of Waynesville; sisters, Patricia (Jimmy) Hoyle and Kathy (Frank) Deaver both of Waynesville; sister-in-law, Barbara Goodson; five grandchildren and three great grandchildren along with numerous nieces and nephews
Robert was a small business owner who specialized in flooring with his brother.  He also attended Rocky Branch Baptist Church and he knew he was saved. Robert loved to be outdoors, fishing, camping, going to the beach and ginseng digging.
Funeral Services will be held at 6 p.m. on Thursday, Nov. 1 at Smoky Mountain Chapel with Rev. Steve Rhinehart, Rev. Billy Rogers and Rev. Charlie Creasman officiating.  The family will receive friends prior to the service from 5 p.m. until 6 p.m.
Smoky Mountain Cremations and Funeral Service of Clyde is caring for the family and the online register is available at www.smokymountaincremations.com