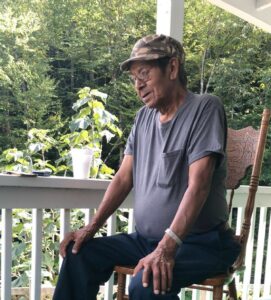 Garfield Henry Long Sr., 72, of Cherokee, passed away at his home on Tuesday, Oct. 23, 2018.
Garfield was a kind, considerate man. He never met a stranger and was faithful to share his love for the Lord with others. He had friends everywhere and is known both locally and away from here as a Cherokee craftsmen. He is well known locally by most stickball players and has supplied ball sticks, especially at fair time, for many years.  A wood carver and dough bowl maker, his talent was endless.
Garfield loved most of all to play and sing gospel music. He started singing with his mom and dad at an early age. Garfield has tried to pass along his love for the Lord by example to many people, especially children. He has also taught them to carve and carry on Cherokee traditions. A first language speaker, he always shared the Cherokee language and taught others as he could. Garfield went out of his way to help others, never asking for anything in return. He will be missed by many.  He worked in maintenance at the Cherokee Museum for 14 years until he retired and was a member of the Bethabara Baptist Church.
Garfield is survived by his wife, Gail Panther-Long; his children, Garfield Long Jr. of Cherokee, James Long of Cherokee, Eugene Long of Cherokee, Charles Welch of Cherokee, and his step-children, Deino Panther, James Panther, Rodney Panther, Allana Panther, Jared Panther, and Delbert Ross.  Garfield is also survived by eight grandchildren, Mason Long, Cody Long, Sadie Long, Teresa Long, Maggie Welch, Hunter Welch, Emily Welch, and Walker Welch; three great grandchildren, Me-li Long, Delilah Long, and Elijah Townsend; step-grandchildren, Kendra Panther, Nevayah Panther, Kylan Panther, Jalee Panther, Marla Panther, McKyan Panther, Timbi Panther, Draylon Panther, Kayandra Youngdeer, Ostani Youngdeer, Elijah Youngdeer, Jeremiah Locust III, Emaliyah Wolfe, Ares Paul, and A.J. Terry; brother, John Long; and his special friends, Ken and Bea Smith.
Garfield was preceded in death by his father, Posey Long; mother, Bessie Catolster Long; brothers, David and Wilbur Long; sister-in-law, Barbara Long; and uncle, Abel Catolster.
A visitation will be held at Bethabara Baptist Church on Friday, Oct. 26 from 6pm 12midnight and the funeral service will be held at the church as well on Saturday, Oct. 27 at 2pm. Bro. Ernie Stiles and Pastor Eddie Sherrill will officiate. Burial will follow at the Long Family Cemetery on Long Branch Rd.  The pallbearers will be as follows, Cody Long, Delbert Ross, Eugene long, Deino Panther, Walker Welch, Tylor Keffer, and Farrell Oocumma.
Long House Funeral Home is serving the Long Family.