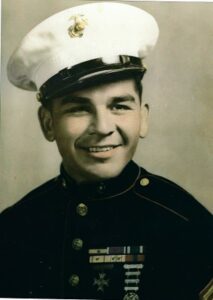 Robert S. Youngdeer, 96, of Cherokee, went home to be with the Lord on Saturday, Oct. 20, 2018.
He was born on April 13, 1922 to the late Jess and Martha Jane Owl Youngdeer.  He was a past Chief of the Eastern Band of Cherokee Indians, a 20-year Marine Corps and Army veteran.  Serving in World War II, he was combat wounded, sustained a bullet entering his mouth, through his teeth and gums, just below his nose, going through his neck, barely missing the brain stem.  Severely wounded, he was evacuated to the Silver Stream Hospital in Wellington, New Zealand.  After healing in the hospital, miraculously, he returned to the Pacific and participated in the OKINAWA campaign.  He was discharged from the Marine Corps in July 1948 and enlisted in the Army in November 1948.  He was later a member of the 82nd Airborne, an experienced Paratrooper, with 74 Jumps and was a certified Airborne Jumpmaster, from Jumpmaster School Fort Campbell, Kentucky.
Robert Youngdeer retired from Military Service in October 1960 and served Native Americans many years in BIA Law Enforcement assignments on eight different Indian Reservations.
He is survived by one son, Merritt E. Youngdeer Sr. and wife Lulie of Cherokee; one daughter, Judith A. Nelson and husband John of Lawton, Okla.; grandchildren, Connie S. O'Neill of Groton, SD, Audra L. Vogel of Aberdeen, SD, Lauren Armachain of Cherokee, Angela M. Nelson of Atlanta, Ga., Carla Alene Williams of Lawton, Okla., and John R. Nelson of Sylva; great grandchildren, Taylor Lynn and husband Skyler Spellman of Aberdeen, SD, Payton N. Maine of Groton, SD, Ashley S. Vogel of Aberdeen, SD, Zack Vogel of Aberdeen, SD, Orion D. Holmberg of Cherokee, Kenneth C. Williams of Lawton, Okla., and Robert C. Williams of Lawton, Okla.
In addition to his parents, he was preceded in death by his wife of 73 years, Geneva Alene Youngdeer; one grandson, Merritt E. Youngdeer Jr.; and one brother, Jesse Henry Youngdeer.
Visitation will be held on Tuesday, Oct. 23 from 5 – 11pm at the Cherokee High School Chief Joyce Dugan Cultural Arts Center.  Funeral services will be held on Wednesday, Oct. 24 at the Chief Joyce Dugan Cultural Arts Center at 11am.  Pastor Dan Conseen and Lew Harding will be officiating.  Private burial will follow at the Youngdeer Cemetery.  Pallbearers will be John R. Nelson, Daniel Conseen, Warren DuPree, Orion Holmberg, Eddie Welch, and Wilbur Paul.
Long House Funeral Home is serving the Youngdeer family.