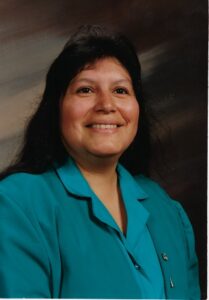 Johnnie Ruth Maney, 63, of Cherokee, passed away Wednesday, Oct. 17, 2018 after an extended illness.
Johnnie Ruth was a beloved daughter, sister, aunt, and memaw to her family, a dear friend to many, and had a positive and lasting impact on many lives during her time as an assistant teacher at Cherokee Central Schools. She was active in preserving the Cherokee heritage through her sewing, pottery, and beadwork. Johnnie Ruth was a kind and loving soul and will be truly missed by many.
She is survived by her husband of 45 years, Charles Wolfe; her father, John Henry Maney (Delores); one daughter, Shannon Swimmer (Kevin) of Cherokee; grandchildren, Naomi Swimmer of the home, and Elijah Bryant of Cherokee; two brothers, Kenneth "Buff" Maney (Julie), and William Maney; three sisters, Nancy Maney, Charla Crowe (Melvin), and Mollie Grant (Rodney); special others, Paulette Smart, Stanley and Euphemia John.
She was preceded in death by her mother, Mary Louise Bigmeat Maney; and brothers, Don Maney, Ronnell Maney.
Visitation will be held on Friday, Oct. 19 starting at 5pm at Rock Springs Baptist Church where the body will remain until the hour of service on Saturday, Oct. 20 at 12pm at the Rock Springs Baptist Church. Pastors Foreman Bradley and Keith Carson will officiate. Burial will follow at the John Wolfe Cemetery. Pallbearers will be Seger Williams, Two Bears Williams, Richard "Bocephus" Williams, Micah Swimmer, Wes Wolfe, Kenny Panther, Robert "Toad" Arch, and Dwayne "Tuff" Jackson.
Long House Funeral Home is assisting the Maney family.