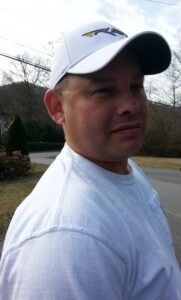 Raymond "Chucky" Owle III, 47, of Cherokee, passed away unexpectedly on Friday, Oct. 12, 2018 at the Cherokee Indian Hospital.
He was a veteran of the U.S. Marines.
Chucky is survived by his parents, Raymond Owle Jr. and Madge Lambert Owle; his children, Tank Rattler of Robbinsville and Tai-Lee Owle of Robbinsville; grandmother, Margaret Owle; Brothers, Dean Owle, Earl Owle, Manuel Watty and Stephen Watty; sisters, Alicia Lambert and Monica "Tigger" Lambert; several aunts and uncles, close cousins; and many friends also survive.
He was preceded in death by his grandparents, Dock and Helen Lambert; grandfather, Raymond Owle Sr.; brother, Ray Owle; uncles, Mike Lambert and George Owle; and aunt, June Nephew.
Funeral services were held on Sunday, Oct. 14 at Long House Funeral Home.  Pastor Ben Reed and Bear Lambert officiated.  Burial followed at the Tow String Cemetery with military honors provided by the Steve Youngdeer American Legion Post 143.