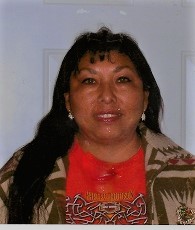 Dianne Sue Wildcatt, 54, of Cherokee, passed away Wednesday, Oct. 3, 2018 at the Cherokee Indian Hospital after a brief illness.
She is survived by her children, Elisha Wildcatt, Jami Kirkland (husband James Marlin Panther), Chris Kirkland, Stephen Kirkland (wife Erin), and Carrie Wildcatt; 13 grandchildren, Byron Locust, Laila Locust, Jalee Panther, Marla Panther, Arthur Locust, Shawnee Kirkland, McKyan Panther, Blake Sequoyah, Khloe Sequoyah, Parker Kirkland, Ohnalise "Timbi" Panther, Addison Wildcatt, and Jaxson Wildcatt Kirkland; sisters, Hattie Milholen, Melitia Lossiah, Sally Davis, and Kathleen Mendez; aunt, Gwen Wildcatt; brother-in-law, Soberio; and several nieces and nephews.
Dianne was preceded in death by her parents, Boyd (Bodie) Wildcatt and Bessie Jackson Wildcatt; brothers, Johnson Lee Wildcatt, Abraham Wildcatt, and Jack William Wildcatt; one sister, Lucy Wildcatt; niece, Amy Arch; grandbabies, Danner and Danya Kirkland; and uncle Raymond Jackson.
Funeral services were held on Sunday, Oct. 7 at 2pm at Long House Funeral Home.  Pastor Dan Conseen officiated.  Burial followed at the Ben Family Cemetery on Fisher Branch in the Birdtown Community.  Pallbearers were Stephen Kirkland, Byron Locust, Dee Dee Wildcatt, Christopher Kirkland, Richie Kirkland, and Johnny Wildcatt.