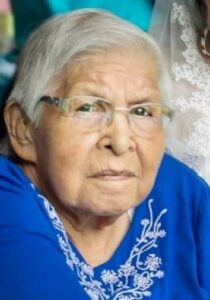 Dorothy "Boots" P. Swimmer, 89, went home to the Lord Sept. 28, 2018 from injuries sustained in a car accident. 
She was the daughter of the late Ben and Kina Powell.  In addition to her parents, she was preceded in death by her husband of 64 years, Isaac D. Swimmer; one son, David P. Swimmer; one grandson, Tsa-ni A. Youngdeer; and a great grandson, Cayden T. Lossie. 
Boots was lovingly known to a couple of her grandsons as "Granny Grump" and to many simply as "Mom".  Boots was a home maker.  She worked as a guide at the Indian Village for a number of years.  She was an avid bead worker, and a master maker of pickled beans, krout, and anything that could be pickled, canned, or frozen. 
She is survived by sons, Ben, William, and James (Dean) Swimmer (wife Lola); her daughters, Bobbi and Russell George, Kina Swimmer, Anita Thompson,  Bonnie and Barney Youngdeer of Cherokee, Dinah and Jerry Melton of Puryear, Tenn.; 10 grandchildren; 14 great grandchildren; and many special friends. 
Funeral services were held at Long House Funeral Home on Tuesday, Oct. 2.  Pastors Bobby Watts and James "Bo" Parris officiated.  Burial followed at the Ike Swimmer Cemetery.  Pallbearers were among family and friends.