Cherokee Indian Police Department and Cherokee EMS among over 40 agencies and volunteer Search and Rescue groups participating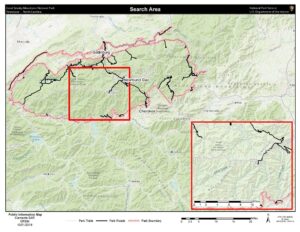 Great Smoky Mountains National Park officials have entered the sixth full day of searching for Mitzie Sue "Susan" Clements, 53, who was last seen in the Clingmans Dome area of the park on Tuesday, Sept. 25. Over the weekend, the search effort intensified with the addition of personnel and specialized equipment from five states. Searchers, canine teams, helicopters, and drones are continuing to work in steep, rugged terrain of the mountainous area that straddles the North Carolina – Tennessee border.
As of Monday, around 125 trained searchers and logistical support personnel from more than 40 state and local agencies and search and rescue organizations are participating in the search operation led by the National Park Service. Thus far searchers have hiked over 500 miles on trails looking for Clements. In addition, experienced search personnel, canine teams, and drones with specialized search and rescue equipment have been used to conduct more intensive off-trail "grid-searches" of approximately 10 square miles.
A number of new organizations have joined the search in the last two days, including Christian Aid Ministries Search and Rescue, Gatlinburg Fire Department, Haywood County Search and Rescue, Oak Ridge National Laboratory, North Carolina State Bureau of Investigation, Tennessee Highway Patrol Rapid Response Team, Tennesse Search and Rescue Team, Tennessee State Parks, United States Forest Service Cherokee Hotshots, as well as other National Park Service personnel from Blue Ridge Parkway, Chickamauga & Chattanooga National Military Park, and Shenandoah National Park.
The seven-mile Clingmans Dome Road remains closed to accommodate the infrastructure needed to manage this large-scale search. There are no trail closures in effect at this time.
Susan Clements was last seen on the Forney Ridge Trail approximately ¼ mile from Andrews Bald on Tuesday, Sept. 25 at 5pm where she was hiking with her daughter before the two separated with a plan to meet back at the Clingmans Dome parking lot. She is a white female with light brown hair and blue eyes, is 5'6" tall, and weighs 125 pounds. She is wearing a green zip-up sweater, black workout pants over black leggings, a clear rain poncho, and gray Nike running shoes with light green soles. 
Anyone who saw Clements on Tuesday afternoon or since then is asked to contact the National Park Service Investigative Services Branch through one of the following methods:  1-888-653-0009, www.nps.gov/isb and click "submit a tip," email nps_isb@nps.gov, or via a message on Facebook at "InvestigativeServicesNPS," or Twitter @SpecialAgentNPS.
Other cooperating organizations that are contributing to the search include: Backcountry Unit Search and Rescue, Black Diamond Search and Rescue, Blount County Rescue Squad, Blount County Special Operations Response Team, Blue and Gray Search and Rescue Dogs, Blue Ridge Mountain Rescue Group, Buncombe County Rescue Squad, Catons Chapel-Richardson Cove Volunteer Fire Department, Cherokee Indian Police Department, Cherokee Tribal EMS, Gatlinburg Police Department, Henderson County Rescue Squad and EMS, Jackson County Sheriff's Office,  Knox County Office of Homeland Security and Emergency Management, Knoxville-Knox County Emergency Management Agency, Maryville Police Department, North Carolina Emergency Management Agency, Northview Kodak Fire Department, Pigeon Forge Police Department, Sevier County Emergency Management Agency, Sevier County Volunteer Rescue Squad, Sevier County Sheriff's Office, Sevierville Police Department, Southwest Virginia Mountain Rescue Group, Seymour Volunteer Fire Department, Smoky Mountain Nordic Ski Patrol, Smoky Mountain Search and Rescue Team, Swain County Emergency Management Agency, Swain County Rescue Squad, Swain County Sheriff's Office, Tennessee Army National Guard, Tennessee Emergency Management Agency, Tennesse Highway Patrol, and Walden's Creek Volunteer Fire Department.
– National Park Service release