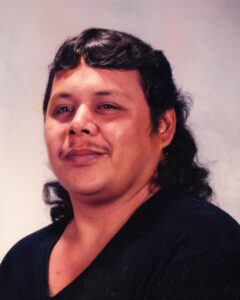 Russell Lee Wahnetah, 57, of the Yellow Hill Community in Cherokee, passed away unexpectedly on Monday, July 23, 2018 at his residence.
He is survived by his daughter, Carla Maria Ann Wahnetah; six grandchildren; one brother, Howard K. Wahnetah; and one sister, Roberta Wahnetah Long.
Russell was preceded in death by his parents, Robert Johnson Wahnetah and Frances Hornbuckle Wahnetah; and two sons, Michael Austin Wahnetah and Robert Lee Wahnetah.
Visitation will be held on Thursday, July 26 from 7 – 10pm at the Yellow Hill Baptist Church.  Funeral services will be held on Friday, July 27 at 1pm at the Yellow Hill Baptist Church.  Pastor James "Bo" Parris and Brother Eddie Morrow will officiate.  Burial will follow at the Wahnetah Family Cemetery. Pallbearers will be among family and friends.
Long House Funeral Home is assisting the Wahnetah family.