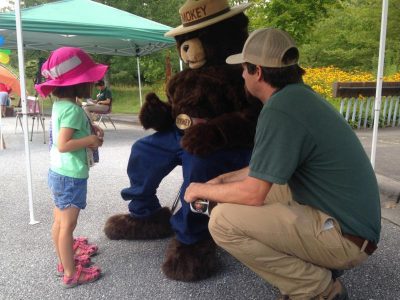 PISGAH FOREST – The Cradle of Forestry is inviting kids of all ages to Smokey Bear's Birthday Party on Saturday, Aug. 4 from 11am – 3pm. Smokey Bear turns 74 this year.
The fire prevention bear will help cut his birthday cake and meet and greet his friends during the celebration. Regular admission fee is $6 and $3 for youth ages 4-12, America the Beautiful and Golden Age pass holders. Admission is free for children under 4 and Friends of the Cradle Annual Pass holders. This event is sponsored by Bi-Lo of Pisgah Forest.
Activities during Smokey Bear's Birthday Party, 11am – 1pm are held in front of the Forest Discovery Center, indoors if it is raining. The fun includes music, making birthday cards, Smokey Bingo, Pin-the-Pail on the Campfire, prize drawings, birthday cake and of course, Smokey Bear. Party favor bags for children include a little book "The True Story of Smokey Bear," the Smokey Bear song and Smokey memorabilia. Families are welcome to pack a picnic.
At 2pm, the party continues with a live animal program by Carolina Mountain Naturalists. Meet native wildlife and learn about their lives in Smokey's woods.
Throughout the day, guests are invited to enjoy all the Cradle of Forestry has to offer. Visitors can explore the 15 hands-on exhibits in the Forest Discovery Center, including the firefighting helicopter simulator and the scavenger hunt. A collection of Smokey artwork by Rudy Wendelin, famed Smokey Bear illustrator who created Smokey's image as we know him today, is on display. The Adventure Zone offers exploration and play designed for children along the autism spectrum, but enjoyed by everyone. Smokey's party, the Forest Discovery Center, and the Cradle's two interpretive trails are accessible to wheelchairs and strollers. Also visit our Café at the Cradle open, 11am – 3pm.
Party Schedule:
11:00 – The Party Begins with children's music and games

11:00-1:00 – Smokey Bear games and crafts

11:30 – Smokey arrives to greet his friends

12:30 – Happy Birthday Song and cake serving begins

12:35 – Grand prize drawing (Smokey doll) and story time

1:00 – Games and crafts end; party-goers are invited to explore the Forest Discovery Center

2:00-3:00- Live animal program

11:00am, 1:00pm, and 3:00pm- Smokey Bear for Adults presentation
Smokey Bear has been a symbol of fire safety and fire prevention since 1944. The purpose of the Smokey program is to create and maintain public awareness about the need to prevent unplanned, human-caused wildland fires. Smokey Bear uses Facebook, Twitter, Instagram and YouTube to further the reach of his messages:
The Cradle of Forestry is located on U.S. Highway 276 in the Pisgah National Forest along the Forest Heritage National Scenic Byway, six miles north of Looking Glass Falls and four miles south of the Blue Ridge Parkway milepost 412.
Info: Cradle of Forestry (828) 877-3130 or online at www.cradleofforestry.com
– Cradle of Forestry