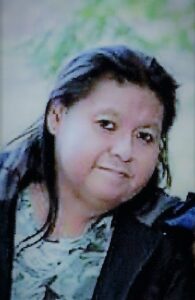 Sally Jo Teesateskie Anderson, 51, of the Snowbird Community in Robbinsville, passed away Tuesday, July 10, 2018 at Mission Hospital in Asheville after an extended illness.
Sally Jo was an outstanding ball player that will be remembered by many teammates and opponents as well.  She was an avid Tennessee Vols. Fan.  She will always be remembered as a person who loved to help others.  Her granddaughter, Kenzy McCarter, was the light of her life as well as her two daughters.  Family meant the world to her.  She cherished every opportunity to spend time with them all.  She was a member of the Zion Hill Baptist Church.
She is survived by her parents, Willie Teesateskie and Rachel Smoker Teesateskie; two daughters, Tosha McCarter (husband Justin) and Summer Teesateskie Thompkins (husband Christopher); one special granddaughter, Kenzy McCarter; brothers, Shane Welch (wife Jessica), Freelin Welch (wife Tracy), and Freeman Welch; sisters, Ella Mae Teesateskie, Angela Teesateskie, and Samantha Anderson; special friend, Conny Fuqua; special cousin, Darrell Teesateskie; and several nieces, nephews, aunts, and uncles, whom she loved very much, also survive.
Sally was preceded in death by her mother, Margaret Welch.
Visitation will be held on Thursday, July 12 beginning at 5pm at the Zion Hill Baptist Church in the Snowbird community where the body will remain until the hour of service on Friday, July 13 at 12pm.  Pastors Michael Rattler and James "Bo" Parris will officiate.  Burial will follow at the Little Snowbird Baptist Church Cemetery.  Pallbearers will be Paden Welch, Corey Jumper, Storm Teesateskie, Dalton Welch, Woodrow Teesateskie, Reggie Welch, Justin McCarter, and Christopher Thompkins.
Long House Funeral Home is assisting the Anderson family.