By JODY BRADLEY 
Every gardener at some point in time says to himself, "Why did I plant so many?"  I asked myself that the first year I planted spaghetti squash. That questions lead to, "What am I going to do with all these."  That is when I began researching Grow-A-Row.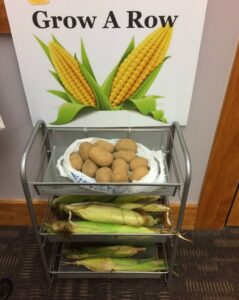 America's Grow-A-Row mission is to positively impact as many lives as possible through a volunteer effort of planting, picking, rescuing, and delivering free fresh produce. They 
provide fresh, healthy produce to those in need
educate people of all generations about hunger and ways to help
introduce our youth to farming and healthy eating
cultivate tomorrow's leaders to give back
contribute to the sustainability of agriculture.

 
Cherokee's Grow-A-Row is not that ambitious, yet.  Our Cherokee Grow-A-Row mission is to 
Increase the number of growers

 

Set up more distribution points.

 
Grow-A-Row has a simple premise.  While you plant a row of cucumbers for your family, grow a row to donate to the community.  When the cucumbers come in, take them to the distribution point of your choice.  That's it.  There are two sites:  Dora Reed Child Development and Age Link Child Development. 
Recommended crops are Beans, Beets, Broccoli, Cabbage , Corn, Cucumbers, Eggplant, Onions , Peppers, Potatoes, Peas, Swiss Chard, Spaghetti squash , Butternut squash, Okra and Yellow squash.   
Grow-A-Row is a great project for individuals, youth groups, churches, or community clubs.  Plant, harvest, and donate the bounty of a garden to those in need. You may work with your peers to make a difference in their community while learning gardening basics and the importance of community service. With as little as one to four hours a week, you can make a difference in the lives of many Cherokee people. 
You don't have to be a farmer to Grow-A-Row.  You just need a desire to serve and help others in the community.  Maybe that is why God gave us the green thumbs – to feed the hungry.  
The Office of the Vice Chief sponsors the Cherokee's Grow-A-Row project which is in its third year.