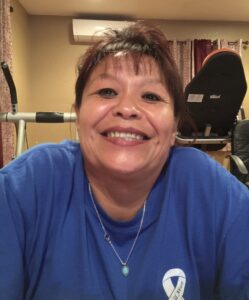 Annie Lynn Cucumber, 49, of Cherokee, passed away Sunday, May 27, 2018 at Mission Hospital in Asheville.
She is survived by her father, Henry Queen Sr. of Cherokee; her children, Kaila Cucumber, Jacob "Hunter" Rattler, and Kierstan Cucumber, all of Cherokee; two grandsons, Payne Rattler and Kaden Cucumber of Cherokee; four sisters, Ruth McCoy, Leslie "Caron" Swayney, Lady Bird Powell, and Marlena "Mel" Toineeta all of Cherokee; one sister-in-law, Henrietta Littlejohn of Cherokee; one Aunt, Rosie Hornbuckle of Cherokee; one great aunt, Amanda Swimmer of Cherokee; many nieces and nephews; and many great nieces and nephews.
She was married to Robert Lee Tramper.
Annie was preceded in death by her mother, Stacey Sequoyah; adopted parents, Wesley Powell and Annie Powell; brothers, Henry Queen Littlejohn Jr., Lloyd Toineeta, Alvin Toineeta, and Jimmy Sequoyah; one sister, Mildred Cisneros; one nephew, Khrystofer "Hawk" Rattler; and one great niece, Aubrey Littlejohn.
Visitation will be held on Wednesday, May 30 beginning at 5pm at Bethabara Baptist Church. Funeral services will be held on Thursday, May 31 at 1pm at Bethabara Baptist Church.  Pastors James "Bo" Parris and Greg Morgan will officiate.  Burial will follow at the Sequoyah Cemetery in the Birdtown Community.  Pallbearers will be Dean Swayney, Tim Swayney, James Swayney, Jesse Queen, Henry Littlejohn III, and Jacob Smith.
Long House Funeral Home is assisting the Cucumber family.