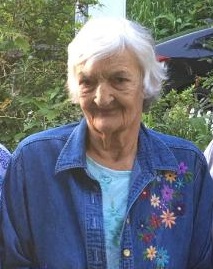 Elizabeth Ann Owle Crowe, 77, of the Birdtown Community, went home to be with our Heavenly Father on Friday, May 18, 2018.
A native of Cherokee in Swain County, she was the daughter of the late Rev. Dewitt Owle and Eva McCoy Owle.
She was married to the late Gene Crowe Sr. for 40 years.  She was a loving housewife, mother, and grandmother.  She was a member of Bethabara Baptist Church.
She was preceded in death by one daughter, Sharon Crowe; one granddaughter, Amy Crowe; sisters, Bessie Long, Esther Waldroup; and brothers, Grady "Mac" Owle, and Mike Owle.
She is survived by her sister, Frances O. Arneach; brother, William Paul Owle; children of Liz and Gene are Jeanne Crowe Lira (Carlos), Albert D. Crowe Sr. (Lisa), Gene " Tunney" Crowe Jr. (Sarah), Rhonda Crowe Long (Kenny); grandchildren include Summer, Tyler, Albert Jr., Paige, Travis, Gina, Nikki, Jake, Becca, Lucy; and great grandchildren Marley, Bailey, Cher, Laila, Izzy, Gia, Saphira, Eldon, Aurora.
The pall bearers will be nephews.
The funeral services will be held at 1pm Monday, May 21 at Bethabara Baptist Church. Revs. Richard Duke Pickup, Denny Crowe and James (Bo) Parris will officiate with burial in the Birdtown Cemetery.