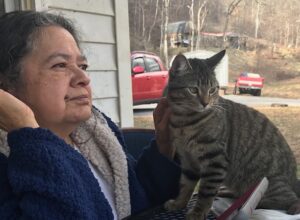 Sharon Darlene Wolfe, 62, of the Big Cove Community in Cherokee, passed away Tuesday, May 15, 2018 at the Cherokee Indian Hospital.
She is survived by her mother, Inez Wolfe;  three sons, Victor Wolfe (Evannia), Jonah Watty, and Stan Watty; one daughter, Mary Wolfe (husband Richard); grandchildren, Taylor Wolfe, Jodi Wolfe, Nick Wolfe, Christian Driver, Brittany Wolfe, Jason Wolfe, Jaiden Welch, Sulley Wolfe, Trevor Wolfe, Yoni Beckman, Letitia Driver, Courtney Driver, Jake Driver, and Levi Driver; one brother, Darrell Wolfe; two sisters, Vickie Driver and Janet Wolfe; and several nieces and nephews also survive.
Sharon was preceded in death by her father, Ned Wolfe; one son, Ned "Duke" Wolfe; two brothers, Eric and Leonard Wolfe; and one sister, Edith Wolfe Santiago.
Visitation will be held on Thursday, May 17 from 6 – 8pm at Long House Funeral Home.  Funeral services will be held on Friday, May 18 at 2pm at Long House Funeral Home.  Pastor Charles Ray Ball will officiate.  Burial will follow at the Soggy Hill Cemetery in the Big Cove Community.  Pallbearers will be Taylor Wolfe, Jodi Wolfe, Kevin Watty, Richard Driver, Daniel Reed, and JR Mahsetky.