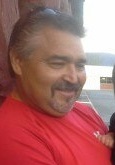 James Myron  (Jamie) Long 59, of Cherokee went home to be with the Lord on Monday, May 7, 2018. An enrolled member of the Eastern Band of Cherokees, he was a son of the late Johnny Long and Bessie Owle Long.
Jamie was a devoted son, father, grandfather, brother and uncle. He retired from the Eastern Band of Cherokees with 28 years of service.
Jamie started playing football at a young age, and he played from the youth league all the way through high school in Cherokee. He was also a wrestler for Cherokee High School. He was an avid fisherman and hunter. He also loved to work in his garden. He was a longtime member of Bethabara Baptist Church. He loved to ride his Harley Motorcycle and loved his Classic Cars and going to car shows. He loved his grandson.  He was the apple of his eyes.
He is survived by his daughter, Stephanie Long; his grandson, Xaldin James Bird; a sister, Alyne Stamper and husband Dave; two brothers, John Dewitt Long (Karen), Ray Barton Long (Michelle); and a very special nephew, Johnny Long, all of Cherokee.
He also leaves behind numerous, nieces, nephews, aunts, and uncles, and many cousins and cherished friends.
Funeral Services will be held 1pm on Wednesday, May 9 at Bethabara Baptist Church with the Revs. Denny Crowe and James (Bo) Parris officiating. Burial will be at Birdtown Cemetery.
Pallbearers will be Eddie Stamper, Dwayne Stamper, Ben Stamper, Gene (Tunney) Crowe, Curtis Arneach, Bill Waldroup, Robert (Bob) Long, Pete Long, Don Long, Albert Crowe, Brian Waldroup, Shane Owle, Chris Maney, and Cain Ross.