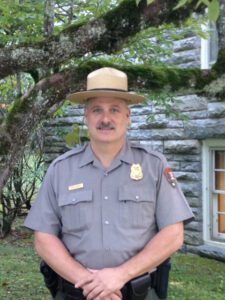 Great Smoky Mountains National Park officials announced the retirement of Chief Ranger, Steven Kloster, who will retire after 35 years of service. Steve has worked in the Smokies since 1988.
Steve has had an illustrious and decorated career, receiving many awards and honors throughout his 35 years of federal service. These include the Department of the Interior's Exemplary Act Award in 1992 for the rescue of a pilot involved in mid-air collision, as well as the Georgia Medal for Valor in 1992 for the same rescue operation. Steve has also received a Special Act Award in 1993 for a park-wide marijuana eradication program in the Smokies, a Quality Step Increase for outstanding performance in East District operations in 1998, the Great Smoky Mountains National Park Employee of the Year Award, and the National Park Service Southeast Region Harry Yount Award in 2001. The Harry Yount Award is bestowed upon highly skilled rangers who perform the duties of protecting resources and serving visitors in an exemplary way.
"We have been fortunate to have Steve here in the Smokies," said Superintendent Cassius Cash. "He has admirably served and protected the people of this park, while working in partnership with many federal, state, and local agencies that support the park."
While at Great Smoky Mountains National Park, Steve has served as the Chief Ranger since May 2015. He has also served in various other law enforcement positions including Abrams Creek Ranger, North District Backcountry Ranger, Acting East District Ranger, Greenbrier/Cosby Park Ranger, Acting North District Ranger, Cosby Area Supervisor, and Tennessee District Ranger. Steve also served as the Acting Chief Ranger five times between 2009 and 2015.
Steve began his career with the National Park Service in 1983 as a Park Technician at Allegheny Portage Railroad National Historic Site in Gallitzin, Pennsylvania where, among his duties, he patrolled park trails, investigated violations and accidents, operated the visitor center desk, and designed and constructed four miles of cross country ski trails. Prior to moving to the Smokies in 1988, Steve also served in various positions at Independence National Historical Park, Yellowstone National Park, Shenandoah National Park, Delaware Water Gap National Recreation Area, and  Canaveral National Seashore.
Steve is originally from upstate New York and earned a bachelor's degree in recreation education with a minor in biology from State University of New York College at Cortland. He attended the National Park Service Seasonal Law Enforcement Academy at SouthWestern Technical Community College in Sylva, North Carolina and the Federal Law Enforcement Training Center in Glynco, Georgia.
A retirement party for Steve is planned for Thursday, May 10 at 12pm at Mynatt Park in Gatlinburg, Tennessee. Info: Jamie Sanders or Andrea Walton at Jamie_Sanders@NPS.gov or Andrea_C_Walton@NPS.gov.
– NPS