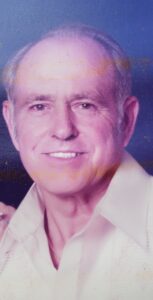 Ted Raby, 95, of Whittier, passed away Wednesday, April 25, 2018 at Skyland Care Center in Sylva after a brief illness.
He was a U.S. Navy Veteran serving in WWII.
Ted is survived by his wife, Pressie Raby; his children, Maria Yvonne Araneta of Italy, Judy Rita Grove of Maryland, Raymond Araneta of Virginia, and Martin Araneta of Manila, Philippines; five grandchildren; and special friends, Orville Weeks and Raye Parker.
Ted was preceded in death by his parents, Jesse Alvin Raby and Alice Virginia Hipps Raby; one brother, Doyle Raby; and two sisters, Dorothy Shehan and Louise Raby Bradley.
Memorial services will be held on Monday, April 30 at 2:30pm at Long House Funeral Home.  Father James Cahill will officiate.  Inurnment will follow at the Sherrill Cemetery in Whittier.