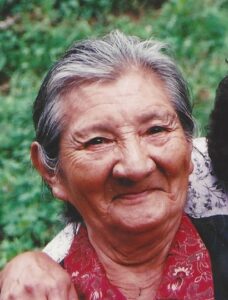 Mabelle Nokomis Sequoyah Ivey McDonald, age 96, of the 3200 acre tract located in Whittier, passed away Thursday April 26, 2018 at the Cherokee Indian Hospital.
She was born Jan. 6, 1922 in Cherokee to parents Ammoneeta Sequoyah and Ollie Otter Jumper.
In her earlier years, she enjoyed beadwork and splitting, carving, and dyeing by hand materials for her basket weaving.  One of her baskets was hand delivered to President Jimmy Carter while still in office.  
She was a cast member of "Unto These Hills" for over 30 years.  While in "Unto These Hills" she traveled and visited schools to teach children the ways of her native people.  The care and treatment of children and the elderly was a important part of her life.  She made appearances in several movies which include "Follow the River", "Last of the Mohicans", "The Lost Capone", "Voices in the Wind", "The Witness", and a few documentaries.  She eased her mind with trips to Florida to fish and visit family.  She loved fishing!  
Mabelle was considered a remarkable and courageous woman.  She had met the challenges in her life head on and was always there for those who may need a little help to meet challenges of their own.  She had learned a lot from her experiences and the experiences of those around her.  Mabelle was happy with what life had given her, especially her greatest joy, the ability to attend bingo as often as possible, all the way up until two months before her passing.  She had said that when the day comes that she no longer lives among us, she hopes to be remembered for the love and time she had to give to those who were at times, less fortunate than herself.
Mabelle is survived by her children, Alice Dyer, Bonnie Merritt (husband Alan), Charles Ivey (wife Debbie), and Jacob Ivey (wife Phillis); 18 grandchildren; 33 great grandchildren; 19 Great Great Grandchildren; and two sisters, Annie Arch of Cherokee and Lizzie Hull of Whittier.
In addition to her parents, she was preceded in death by her husband, Fred McDonald; one son, Bill Ivey; two daughters, Edna Mae Ivey and Shirley Kirkland; and one sister, Leona Eller.
A special thanks to the Yellowhill Singers, Bo Parris, and all who took time to drop by visit and help in any way possible.
Visitation will be held on Saturday, April 28 from 7 – 9pm at Long House Funeral Home.  Funeral services will be held on Sunday, April 29 at 2pm.  Pastors James "Bo" Parris and Gil Breedlove will officiate.  Burial will follow at the Ivey Homeplace Cemetery in Whittier.  Pallbearers will be grandsons.