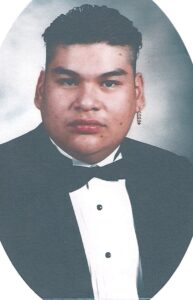 Christopher David "Hooty" Teesateskie, 43, of Robbinsville, went home to be with the Lord. Hooty passed away peacefully at his childhood home surrounded by family on Wednesday, April 25, 2018. Hooty will be deeply missed by his friends and family. He was a blessing to his family, a friend to everyone he met, soft-spoken, and mild tempered even when facing adversity.
Hooty will be remembered as a kind, loving and giving man who was proud of his native heritage. He could often be seen at various sporting events including basketball, baseball, softball, and football fields where he loved cheering for his nieces and nephews. Hooty was devoted to caring for and helping others. He always made himself available for his family whether he was driving his grandma Jeanette to Wal-Mart, going to doctor's appointments, helping Babysit, and caring for animals. He was always eager and willing.
Hooty was the son of the late David Lee Teesateskie and Christine and Steve McCoy of Robbinsville, and the late Josiah and Lorraine Teesateskie. In addition to his parents, he was also preceded in death by one brother, Johnny Teesateskie.
He is survived by his sisters and brothers, Heather Wachacha and husband Adam, Samantha Teesateskie, Brenda Teesateskie, Alyne Turner and husband J.P., Brian Teesateskie, Perry and wife Margaret, and Joey and Melinda; aunts and uncles; nieces and nephews, Zane, Sierra, Xander, and Xamuel Wachacha, Bently Lambert; a great nephew,  Jonathan Wachacha; cousins, BJ Smith and Precious Smith; and many more nieces, nephews, and other family members.
Funeral Services will be held 2pm on Friday, April 27 at Buffalo Baptist Church. Revs. Noah Crowe and Phillip Ellington will officiate with burial in the Buffalo Baptist Church Cemetery.
The family will receive friends from 12 – 2pm Friday at the Church.