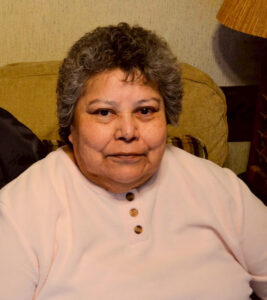 Maude Elizabeth Paul, 73, of the Yellowhill Community of Cherokee, went home to be with the Lord in the early morning hours of Friday, April 20, 2018 surrounded by her immediate family and loved ones.
Maude was the daughter of the late Morgan French and Dinah (Crowe) French of Cherokee.   Maude was a member of the Anisahoni/Blue Clan and a wife, mother and grandmother.  She was married to Wilbur for 54 years.  She enjoyed sewing, especially Pendleton creations and her granddaughter's tear and jingle dresses.  She also taught each family member how to bead.  She was an avid greens hunter which included Bear Grass, Sochan, Poke Salad, Wanegit, Watercress and Branch Lettuce.  She enjoyed feeding the hundreds of hummingbirds that visited her every year.  Maude was Director of the Rez Peggers Cribbage Club that met every Monday, during the season, at Paul's residence.  One of Maude's favorite things to do during cribbage fames was to skunk her fellow players.  Maude welcomed all friends of the family into her home and treated them like her own.  She will be deeply missed by them all.
Maude is survived by husband, Wilbur Paul; children, Dawna Paul and Howard "Eddie" Paul, both of Cherokee; grandchild, Karleigh Reeves; brother, Dale French with wife Nora of Cherokee; sisters, Susie Roach of Cache, Okla. and Darlene Defoe and Roberta "Ann" French, both of Cherokee; sister-in-law, Vera Schaaf; and several Nieces and Nephews.
Along with her parents, Maude was preceded in death by twin sons, Harold and Gerald Paul; brother, Eugene "Nick" French; sister-in-law, Shirley Paul; and brother-in-law, Milburn Howard Roach.
Maude will be placed at the Acquoni Baptist Church on Monday, April 23 for a public visitation from 6 – 11pm.  A funeral will follow the next day, Tuesday, April 24 at 11am at Acquoni Baptist with Pastors Ed Kilgore and Jim Park officiating. Maude will be laid to rest in the French Family Cemetery near her home along Lambert Branch Road with Dale French Jr., Alan Rogers, Meredith "MC" Ferrier, Eugene French, John Griffin, and William Cuprak acting as pall bearers.  Honorary pall bearers will be Jonathon French and James "Spooky" Sherrill.
Long House Funeral Home assisted the family in the final arrangements.