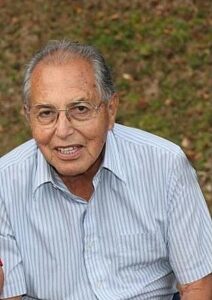 John (Johnny) Russell Wolfe Jr., age 86, died Monday, April 9, 2018.  Johnny was born March 20, 1932 in Hulmeville, Pa. to the late John Russell Wolfe Sr. and Sarah Bradley Wolfe, natives of Cherokee, NC.
Johnny graduated from Cherokee High School.  He was a veteran of the U.S. Navy serving in the Korean War.  In 1951, he enlisted in the U.S. Navy, with service on the USS Dehaven.  He was honorably discharged in 1970.  For the next 20 years, he worked as an electronics engineer for the Naval Academy in Annapolis, Md.  He resided in Annapolis most of his life.
In addition to his parents, he was preceded in death by one brother, Van E. Wolfe and wife Lily, of Cherokee.
He is survived by his wife of 52 years, Ilene Hurley Wolfe; one brother, George S. Wolfe of Robbinsville; two sisters, Mary Wolfe Youngbird and Sadie W. Bradley (husband Tom) of Cherokee; and several nieces and nephews also survive.
Visitation will be held on Tuesday, April 17, 2018 from 6 – 10pm at Long House Funeral Home.  Funeral Services will be held on Wednesday, April 18 at 11am at Long House Funeral Home.  Pastors James "Bo" Parris and Gil Breedlove will officiate.  Burial will follow at the John Wolfe Cemetery in the Birdtown Community.  Pallbearers will be among family and friends.