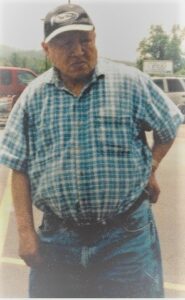 Virgil Walkingstick, 86, of Cherokee, passed away on Tuesday, April 10, 2018 after a brief illness.
He was a lifelong resident of Swain County.
He is survived by his niece and caregiver, Martha Sampson, as well as several other nieces and nephews; and many great nieces and nephews also survive and half-brothers.
Virgil was preceded in death by his parents, Bascomb and Alice Walkingstick; brothers, Russell, Thurman, and William Walkingstick; and one sister, Gracia Walkingstick.
Funeral services will be held on Friday, April 13 at 1pm at Long House Funeral  Home.  Burial will follow at the Birdtown Cemetery.  Pallbearers will be among family members.