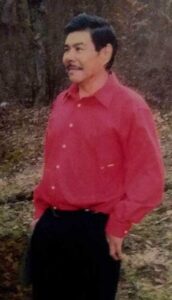 Henderson Biddix, 59, of Asheboro, passed away on Wednesday, April 11, 2018.
He is survived by his wife, Patricia White Biddix; four brothers, Garrett Biddix, John William Biddix, Fred Biddix, Harold Ray Biddix Jr.; one sister, Polly Reed; and numerous nieces and nephews also survive.
Henderson was preceded in death by his parents, Harold Leroy Biddix and Nancy Wildcat Biddix; one brother, Michael Lewis Biddix; and one sister, Nora Biddix.
Visitation will be held on Friday, April 13 beginning at 5pm at the Echota Baptist Church where the body will remain until the hour of service on Saturday, April 14 at 11am. Pallbearers will be Buster Biddix, Jeffery Lineberry, T.K. Soap, Jonathan Biddix, Taylor Biddix, and Native Walkingstick.
Long House Funeral Home is assisting the Biddix family.