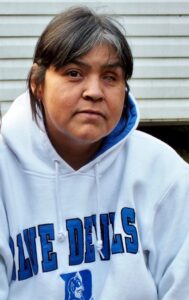 Marenna Lynn Jumper, 47, of the Little Snowbird Community of Graham County, passed away Sunday, April 8, 2018 at her home with her children and loving family by her side.
She was born Sept. 17, 1970 in Swain County to the late Joseph N. Jumper and Louisa Wachacha Grindstaff.
She is survived by one daughter, Dara Wolfe; two sons, William Wolfe (wife Kayla) and Joseph Jumper; six grandchildren, Maleigha, Zedaki, Eli, Jayden, Ethan, and Ty; one brother, D.J. Grindstaff (wife Lacy); four sisters, Sandra Teesateskie (husband Ronnie), Maureen Jackson (husband Clarence Jackson Jr.), Mary Fortenberry, Terry Grindstaff and companion Buddy Hornbuckle, all of Robbinsville; step siblings, Rhonda Garrett, Debbie Bird, Telaka Holbrook, Greg Grindstaff, Jeff Grindstaff, and Ryan Grindstaff; best friends, Londa Chekelelee and Judy Bird; and special nieces, Haley Grindstaff, Sasha Jumper, and Rocanne Sneed.
Visitation will be held on Tuesday, April 10 beginning at 5pm at the Zion Hill Baptist Church in the Snowbird Community in Robbinsville where the body will remain until the hour of service on Wednesday, April 11 at 2pm.  Pastors Noah Crowe and Michael Rattler will officiate.  Burial will follow the service at the Ledford Cemetery.  Pallbearers will be Buddy Hornbuckle, Kenny Garrett, Jesse Ortega, Jonah Bird, Waylon Long, Dean Hill, Scott Chekelelee, and JR Panther.
Long House Funeral Home is assisting the Jumper family.