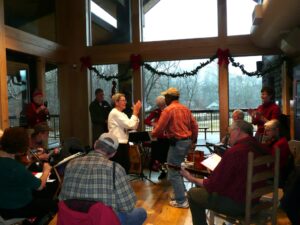 Great Smoky Mountains National Park will host a Holiday Homecoming at the Oconaluftee Visitor Center on Saturday, Dec. 16. Park staff and volunteers will provide hands-on traditional crafts and activities from 10am – 12pm. Children and adults will have the opportunity to learn about and experience some of the traditions surrounding an Appalachian Christmas.
The visitor center will be decorated for the holiday season including an exhibit on Christmas in the mountains. Hot apple cider and cookies will be served on the porch with a fire in the fireplace. In addition, the park will host the monthly acoustic old time jam session from 1-3pm.
"Musical expression was and still is often a part of daily life in the southern mountains, and mountain music is strongly tied to the Smokies history and culture," said Lynda Doucette, Supervisory Park Ranger, Oconaluftee Visitor Center. "This month our music jam will focus on traditional holiday tunes. We would like to invite musicians to play and our visitors to join us in singing traditional Christmas carols and holiday songs as was done in old days."
All activities are free and open to the public. Support of this event is provided by the Great Smoky Mountains Association.
Info:  Oconaluftee Visitor Center 497-1904
– NPS