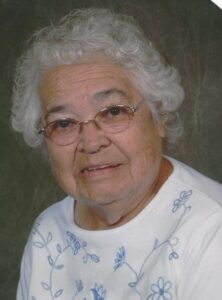 Rev. Dinah Welch Oocumma, 90, of Cherokee, passed away Sunday, Aug. 27, 2017 at the Cherokee Indian Hospital.
She was born July 20, 1927 in Cherokee.  She was an Assistant Pastor of the Cherokee Wesleyan Church.  Dinah was a loving wife, mother, grandmother, great granny, and great great granny.  She was highly loved by everyone who knew her.
She is survived by her children, Martha Vim Oocumma, Catherine Ann Littlejohn, Allan Oocumma (wife Brenda), Wilson Oocumma (wife Patricia), and Olsa Fay Oocumma; grandchildren, Jason Littlejohn, Janelle Maney, and Joseph Littlejohn; great grandchildren, Shelby, Bailey, Davis, Hallie, Me-Li, Julian, Dylan, Triniti, Champ, Calvin, Jesse, Pheobe, and Navaeh; great great grandson, Mitchell Littlejohn; and numerous cousins also survive.
Dinah is preceded in death by her husband, Woodrow W. Welch; her mother, Ollie Squirrel; one grandson, Tyron Oocumma; and one infant great grandson, Jesse Maney.
Visitation will be held on Tuesday, Aug. 29 at the Cherokee Wesleyan Church from 11am – 1pm with funeral services to follow at 2pm.  Pastor Patricia Crockett will officiate.  Burial will follow at the Oocumma Cemetery.  Pallbearers will be grandchildren.
In lieu of flowers, the family request contributions to be made to the Cherokee Wesleyan Church to be used for local charities.
Long House Funeral Home is assisting the Oocumma family.