By SCOTT MCKIE B.P.
ONE FEATHER STAFF
Recovery is happening for members of the Eastern Band of Cherokee Indians.  That message, combined with the slogan "Together we can get through it", are two of the main components of the 2nd Annual Rally for Recovery slated for Saturday, Sept. 16 from 3-7pm at the Cherokee Indian Fairgrounds.
The free event is open to everyone and will include food catered by Granny's Kitchen (up to 500 people), t-shirts (while they last), guest speakers including Principal Chief Richard G. Sneed as well as several people currently in recovery, recovery information from various location organizations, music, raffles, bouncy houses, corn hole competition, traditional Cherokee dances, a stickball demonstration, and more.
"What we hope to accomplish with this event is to continue to raise awareness of the issue at hand and really try to change the messaging of recovery," said Lara Conner, Analenisgi Recovery Center.  "We know with addiction and mental health issues, there is a lot of anger that eventually comes from that – stigma, prejudice, and those are the things, with this Rally, that we want to really shed some light on and start having those conversations.  Because, it is really hard when people are feeling shame and guilt for them to actually come and ask for help."
She added, "The more that we can just continue to talk about it freely and let those lines of communication open and let people know that Cherokee already has some amazing resources here, not just Analenisgi, not just the hospital.  There are a lot of individual community members that are really trying to rally for this cause.  I think the more we have those conversations and let folks know, the more we're opening doors, I hope.  And, hopefully, more people will come in and use those services and come seek help."
Billie Jo Rich, Analenisgi Recovery Center peer support specialist, commented, "Because it is the Recovery Rally, we're putting the focus on the solution instead of the problem and showing people that recovery is possible and it can happen…I feel like a lot of attention has been placed on the overdoses and the losses and things like that and people are just constantly staying focused on that and we're not looking ahead.  We're not looking at a solution and recovery and wellness.  That's what we're trying to show people."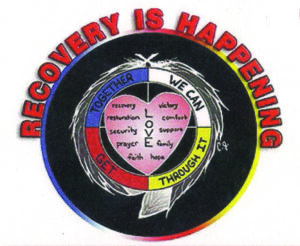 A booth will be set up during the event to give information on an art show that will be held at next year's event.  The show will feature a theme, and those in recovery will be encouraged to submit artwork.
Kristi Case, MPA, Analenisgi Recovery Services manager, noted of the event, "It's going to be a great, family-friendly, fun event to support a healthier community here in Cherokee and to bring all of those programs together but also to bring folks in recovery, folks wanting to be in recovery, and recovery allies – bring the whole community together to showcase what Cherokee has and can provide for healthy alternatives to negative behaviors.  So, we really hope to bring the community together."