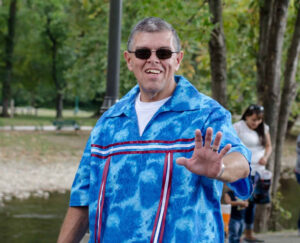 Reason to run: In 2015, I ran for Tribal Council because I wanted to put government back on the side of the people; and I still believe that today. Over the past two years, I have kept myself busy fighting for Big Cove families and voting for a better future for all of us. Working together, we created the per capita loan program which helps hundreds of Big Cove families. We set our sights on constructing a rehabilitation center which will help our Cherokee people beat addiction. Lastly, we have saved millions of the Tribe's dollars and reinvested those savings back into tribal programs so they can serve you.
Background: Prior to my first term of Tribal Council I worked for EBCI for 18 years. I also worked for NC Dept of Transportation for 15 years before coming back to work for the EBCI.
Top Priorities if re-elected: Over the next two years , I want to focus on combating the opioid epidemic facing our community, bringing down the cost of childcare services for Big Cove families, creating a new Tribal Constitution that guarantees and safeguards our tribal membership's rights and privileges, and getting homes built for our people.
Opinions on 2015-2017 Tribal Council: This past council we started out really well. We secured some major accomplishments that help Cherokee people and uses the full weight of Tribal Government for the betterment of our tribal membership. Moving forward, I would like to see Tribal Council come together, focus less on politics, and get back to why the people sent us here in the first place : To make Tribal Government work for all people and make their lives a little better and a little easier.
I humbly ask for your support on September 7th.
Thank you,
Richard French
(828)736-3054