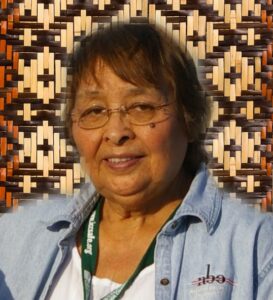 After a valiant fight with cancer, Geraldine Walkingstick passed peacefully into the hands of the Lord on Aug. 15, 2017.
She was an artist: a gifted basket maker with many other creative talents. Geraldine was known for her green thumb and her appreciation of the natural beauty of plants and flowers. She enjoyed the company of family and friends. When she was having a difficult day due to her illness, Geraldine continued to be a true example of grace and courage, seeking to uplift those around her with kind words. The love and prayers of family, friends, and many supporters kept her spirits up, strengthening her and her family.
Geraldine was preceded in death by her parents, William Wallace Wolfe and Mary Tooni Wolfe; sisters Regina Wolfe, Frances Wolfe, and Emily Smith; and her son, Carl Dale Welch.
Geraldine was the beloved mother of surviving children Betty Maney; Mary Ann Thompson; John Welch; Grace Lauver and husband Robert of Oswego, Illinois; Carlene Welch and partner Edison Wildcatt; Kevin Welch and wife Sarah McClellan-Welch of McGrath, Alaska; Billie Jo Rich and husband Mike; 16 grandchildren; and many great grandchildren and great-great grandchildren. Her gift of love for her children and grandchildren, shown through her constant support and guidance, will never be forgotten.
She is survived by one brother, Billy Wolfe of Senoia, Ga.; sisters Hazel Howell, Carmen Rosillio-Perez, Velma Taylor, Donna Sue Wolfe; and many beloved nieces and nephews.
Geraldine will be missed by those who knew and loved her. Though she resides now in her Heavenly home, she will yet live on in the hearts and memories of her family.
Visitation will be held on Friday, Aug. 18 at the Big Cove Baptist Church beginning at 5pm where the body will remain until the hour of service on Saturday, Aug. 19 at 11:30am.  Pastor James "Bo" Parris will officiate.  Burial will follow at the Welch Family Cemetery.
Long House Funeral Home is assisting the Walkingstick family.