By DENNIS EDWARD (BILL) TAYLOR
TRIBAL COUNCIL CHAIRMAN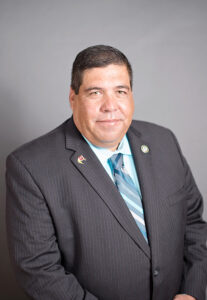 Last week, I had the opportunity to travel to Washington, DC and had some very productive meetings with Mike Andrews, staff director for the Senate Indian Affairs Committee for Senator John Hoeven (R-ND), chairman of the Senate Indian Affairs Committee. I also had the opportunity to meet with Ben Keel (Chickasaw Nation), White House Council on Native American Affairs; Billy Kirkland (Navajo), White House Intergovernmental Affairs; Deputy Secretary of the Department of Interior Jim Cason; Mike Black (Oglala Sioux), Director of the Bureau of Indian Affairs; on issues that our Tribe are facing and other tribes across the country as well.
Our main focus on this trip was the Lumbee Recognition Bill, lands into trust (Coopers Creek, Kituwah, Sequoyah Birth Place Museum properties in Vonore, Tenn.) and touched on any other properties that may have any cultural significance to our Tribe. We also had discussions on the opioids issue that we are dealing with on the reservation. We had some very good discussions on this issue and the lack of funding in the Indian Health Service budget for FY 2018 for education, rehab, after care, and the Hep C epidemic that we are dealing with. We also had discussion on the law as far as charging non-enrolled persons who are bringing the drugs onto the reservation and selling to our enrolled members. I voiced my concern that once we ban an individual from the reservation for bring drugs onto the reservation we need to be able to prosecute them in federal court.
While on Capitol Hill, I also had the opportunity to meet with the National Indian Gaming Commission Chairman Jonodev Chaundhuri (Muskogee Creek), Vice Chair Kathryn Isom Claus (Taos Pueblo), Associate Commissioner Sequoyah Simmermeyer (Coharie – NC state recognized tribe), and Director of Finance Yvonne Lee to discuss the second amended and restated management agreement between the Eastern Band and Caesars Entertainment on the Harrah's Cherokee Casino and our Valley River Casino in Murphy. Those discussions went very well on the status of the management agreement. We also let them know that we had just came out of a tough time administration wise but things were looking up and we were headed in the right direction and that communication has gotten better between the Executive Branch and the Tribal Council and we looked forward to continuing a good working relationship with the NIGC.
As Chairman of Tribal Council of the Eastern Band of Cherokee, these are the duties I am responsible for that people never get a chance to actually see. This is something that I have always wanted to do since I was a kid growing, to help my people, and I was taught this at an early age by my father. In the last eight  years, I have met with nearly 60 U.S. Senators and Congressmen from around the United States on issues from health care, housing, education, lands in to trust, federal recognition, and gaming just to name a few. During the last eight, years I have sacrificed time with my family to make these trips to make sure that our people were protected and taken care of.  But, that is my job.  That is what I signed up for, and I will continue to do so as long as I am a Council Member of the Eastern Band of Cherokee.
Thank you,
Dennis Edward (Bill) Taylor 
Wolftown/Big Y Representative, Tribal Council Chairman