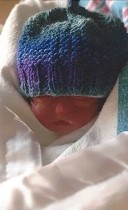 Rafe Allen Rattler, infant son of Jon Rattler and Brandy Keen Rattler, passed away Tuesday, Aug. 8, 2017 at Mission Hospital in Asheville.
In addition to his parents, Rafe is survived by one brother, Kale Walkingstick; one sister, Zoe Walkingstick; maternal grandparents, Shawn Keen and Tammy King; great grandmother, Sue Rattler; one uncle, Thumper Rattler; aunts, Tiffany Keen, Joy Archer, Kiri Lambert, and Clareece Rattler.
Rafe was preceded in death by his paternal grandfather, Jonathan Allen Rattler.
Funeral services will be private.
Long House Funeral Home is assisting the Rattler family.