YAKIMA, Wash. – Larry Blythe, former Vice Chief and Cherokee Agency forester, was presented with the Earl R. Wilcox National Forester of the Year Award at a recent Intertribal Timber Council Award ceremony in Yakima, Wash.
This award is given by the Intertribal Timber Council to individuals who have made outstanding contributions to the management and protection of natural resources on Tribal land. This prestigious award has been given to only 22 individuals over the last 40 years.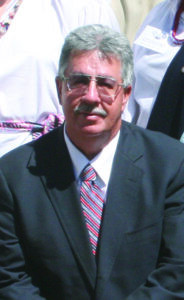 "I appreciate the Intertribal Timber Council presenting me with this prestigious award," said Blythe.  "But, I could not have had the impact I did without good people working with me and supporting me. Wilbur Paul was my boss at the BIA. He encouraged me to create our National Fire Fighting teams and to get our Tribe involved in this National organization. The Tribal Council and the Principal Chief's office encouraged and supported me over the many years because they saw the value of being involved in this National Organization from a political and practical point of view."
Blythe served as forest manager of the Cherokee Agency Forestry Department for 20 years. He implemented the first Forest Management Plan for the Eastern Band of Cherokee Indians as well as trained hundreds of local tribal members in fire fighting for local and national dispatch.
He served on the Intertribal Timber Council's Board of Directors for the past 27 years. During this time, Blythe served as chairman of various committees and became president of the organization in 2013. He was involved in passage of the Native American Forest Resource Management Act in 1990. Blythe has testified numerous times before Congressional Committees on behalf of forestry budgets and forest management initiatives affecting Indian tribal forests. He has been involved in the past three Indian Forest Management Assessment Team efforts which analyze the condition of tribal forests and make recommendations to Congress for staffing and funding needed to support the United States Trust responsibility to Indian tribes.
"As we move forward in natural resource management, we must never lose site of the fact that the United States Government has trust responsibility for management activities that occur on our lands," said Blythe.  "We must also never lose site of the unique connection that tribal members have to the land through the possessory holdings. Any management regime must incorporate these two basic bedrock realities. I thank my Tribe for the opportunity I have had to serve them. I thank God for His grace that has sustained me."
– Special to the One Feather