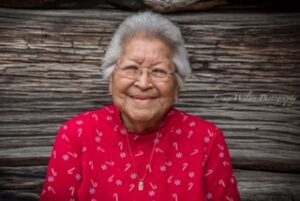 Jessie Long Maney, 76, of Cherokee, passed away Monday July 10, 2017 at her home with her loving family by her side.
She was a loving mother, grandmother, sister, aunt, and friend.  She was a member at Rock Springs Baptist Church.  She worked at the Cherokee Boys Club at the Elementary School Cafeteria for 30 years where she retired as manager.  She was an avid sports spectator.  She loved watching the Cherokee Braves play.  She was also a huge Carolina Tarheels fan and Washington Redskins fan.
Jessie is survived by two daughters, Kim Driver (husband Will) and Tudie Cox (husband Jeff); four sons, Cubby Maney (wife Vickie), Brian Maney, Chris Maney, and Lee Maney (wife Justina); grandchildren, Kristen, Pooter, Jessica, Tonya, and Dalton; nine great grandchildren; two sisters, Frosty Adams (husband Eddie) and Fern Saunooke (husband Soup); and special family friend, Greg Panther.
Jessie was preceded in death by her husband, Jim Ed Maney; one son, Rusty Maney; one daughter, Robin; parents, Wilburn and Pauline Long; and six Brothers.
Visitation will be held on Tuesday, July 11 at the Rock Springs Baptist Church from 5pm until 12 midnight.  Funeral services will be held on Wednesday, July 12 at the Rock Springs Baptist Church at 2pm.  Pastors Greg Morgan and James "Bo" Parris will officiate.  Burial will follow at the Wrights Creek Cemetery.  Pallbearers will be Scott Chekelelee, Pokey Hornbuckle, Chad Carver, Nunnie Davis, DJ Wolfe, and Jason Howell.  Honorary pallbearers will be Eddie Adams, Soup Saunooke, Jason Ornsby, and John Perry Sampson.
Long House Funeral Home is assisting the Maney family.