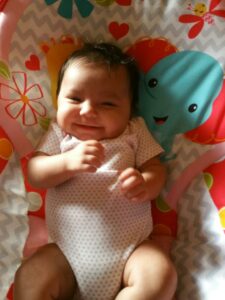 Nova Lis Esquivel, 5 months old daughter of Kami Elisha Esquivel, passed away unexpectedly Sunday, July 2, 2017 at her home in Sylva.
In addition to her mother, Nova is survived by her grandmother, Angela Esquivel; great grandmother, Betty Maney; one brother, Avery Samuel Eugene Haze Owle; one sister, U-Wo-Du-Hi Layla Grace Esquivel; aunts, Emma Bernhisle, Olivia Bernhisle, Jaylynne Esquivel, and Bryton Esquivel.
Visitation will be held on Thursday, July 6 beginning at 5pm at the Big Cove Baptist Church where the body will remain until the hour of service on Friday, July 7 at 11am.  Pastor James "Bo" Parris will officiate.  Burial will follow at the Nova Lis Cemetery on Indian Creek.
Long House Funeral Home assisted the Esquivel family.