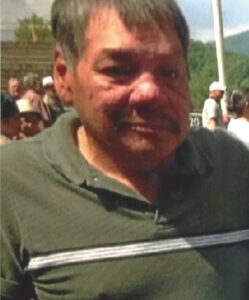 Patrick "Fat-Rat" Teesateskie, 51, of Cherokee, passed away Thursday, Jan. 26, 2017 with his loving daughters and his mother by his side.
He was born Dec. 12, 1965 in Graham County to the late Tom Teesateskie and Jeanette Rattler Teesateskie.
Patrick never knew a stranger.  He was easy going, very loving, and a caring father who loved to fish.  He was always making sure his daughters were happy.
He is survived by his mother, Jeanette Teesateskie; three children, Beth Teesateskie, Patricia Teesateskie, and Shira Littlejohn; one grandson, Jayden Teesateskie; two brothers, Ronnie and Steve Teesateskie; sisters, Norma Jean Teesateskie, Barbara Owle, Donna Sue McCracken, Blanche Teesateskie, and Christine McCoy.
Funeral services will be held on Monday, Jan. 30 at the Bethabara Baptist Church.  Pastors Michael Rattler and Noah Crowe will officiate. Burial will be at the Ledford Cemetery on Noah Geneva Ledford Road in Cherokee.  Pallbearers will be among family and friends.