(Note: This obituary was updated with new information from Long House Funeral Home on Monday, Jan. 9 at 12:51)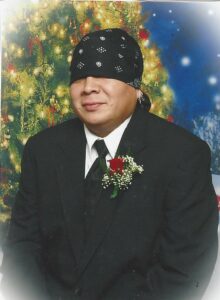 Roy David Driver Jr., 32, of Robbinsville, passed away Thursday, Jan. 5, 2017 at the Cherokee Indian Hospital.
He was born in Sylva on Aug. 27, 1984.
Roy is survived by his loving mother, Lois Chekelelee of Robbinsville; two brothers, Ted Wachacha of Robbinsville and Michael Driver of Cherokee; one sister, Kathleen Driver and companion Arnulfo Daza of Nashville, Tenn.; five nephews, Timothy Daza of Nashville, Native Walkingstick, Michael Driver Jr., Jezi Driver, and Charlie Driver all of Cherokee; seven nieces, Crystal and Dorian Lopez of Charlotte, Jaci Munch Wachacha of Robbinsville, and Louisa Walkingstick, Makayla Driver, Savannah Driver, Azora Driver, all of Cherokee; aunts, Alice Driver, Lucille Blackfox, and Carolyn Tooni all of Cherokee, Londa Chekelelee Rivera and husband Jason of Robbinsville, and Geraldine Chekelelee of Elizabethton, Tenn.; one uncle, Norman Driver of Cherokee; cousins, Gerron Chekelelee of Elizabethton, Randy (Mimi) Hernandez of Weaverville, Sara (Bo) Watty of Cherokee, Luci Hernandez of Johnson City, Tenn., Tyler Rivera of Robbinsville, Journey Watty and Mani Watty of Cherokee, and Makai (Kaiby) Hernandez of Johnson City.
Roy was preceded in death by his father, Roy Driver Sr.; two uncles, Joe Driver and Richard Chekelelee; one aunt, Jeanette Jumper; paternal grandparents, Rev. John G. Driver and Nellie Driver; and maternal grandparents, Rev. Wayne Chekelelee and Sarah Chekelelee.
The body will be taken to Roy's home on Milltown Road in Robbinsville on Monday, Jan. 9 where the body will remain until Wednesday, Jan. 11.  Visitation hours will begin on Monday all day and all night and Tuesday all day and all night.  Funeral service will be at the home in Robbinsville on Wednesday at 1 pm.
Noah Crowe and Teddy Silvers officiated with burial at the Buffalo Independence Baptist Church Cemetery in Robbinsville.  Pallbearers were: Michael Driver, Randy Hernandez, Gerron Chekelelee, Bryan Wesley, Alfred Welch, Jr., Timothy Jumper, Kenny Jumper, Arnulfo Daza, and Tony Williams.
Long House Funeral Home assisted the Driver family.