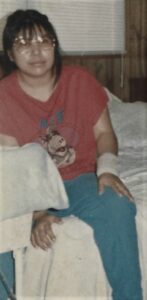 Flora Mae Calhoun Shelton, 53, of Sylva, passed away Thursday, Dec. 29, 2016.
She was born June 11, 1963 in Swain County to the late Smathers Calhoun and Savannah Driver Calhoun.
Flora is survived by her husband, Dennis W. Shelton, Sr.; one daughter, Samantha Shelton; one son, Dennis Woodrow Shelton, Jr.; two sisters, Susanna C. Finger and Annabelle Shuler both of Cherokee; two brothers, William Calhoun and Clement Calhoun both of Cherokee; three grandchildren; five nephews; four nieces; and several great nieces and nephews also survive.
In addition to her parents, Flora was preceded in death by two brothers, Frank Calhoun and Shawn D. Calhoun.
Visitation will be held on Sunday, Jan. 1, 2017 at the Straight Fork Baptist Church beginning at 5pm where the body will remain until the hour of service on Monday, Jan. 2 at 2pm.  Pastors Charles Ray Ball and James "Bo" Parris will officiate.  Burial will follow at the Smathers Calhoun Cemetery.  Pallbearers will be among family and friends.
Long House Funeral Home is assisting the Shelton family.