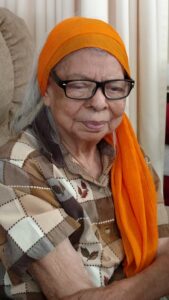 Sarah Wayne Catolster, 86, of Cherokee passed away Wednesday, Dec. 21, 2016.  
She was born in Cherokee on Aug. 22, 1930 to the late Johnson Catolster and Agnes Wayne Catolster.
Sarah is survived by special friends, the Miller family, Billy Jo, John, John, Jr., Josh, Dillon, Christopher, Emelia, and Carter Miller, Jake Radford, Barbara Aldridge, Jeannie Grant, and Kelly Cooper; special brother, Roger Nippress; nephew, Cris Catolster (Billie Jean); several nieces, nephews, and cousins also survive.
In addition to her parents, Sarah was preceded in death by three brothers, Gary Wayne, Douglas Catolster, and John Eric Catolster; and three sisters, Phyllis Catolster, Maxine Catolster, and Joann Eslinger.
No services are planned. Long House Funeral Home assisted the Catolster family.