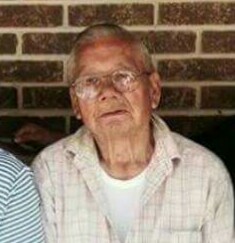 Mike "Leroy" Thompson, 80, of the Big Y Community in Cherokee, entered into his Heavenly Home on Sunday, Dec. 11, 2016 at the Cherokee Indian Hospital after a brief illness.  His loving family was by his side.  Leroy was the son of the late Jackson and Alice Wolfe Thompson.
Leroy worked many years at the Barclay factory until it closed.  He was then employed by Harrah's Cherokee Casino.  He only stayed there for a few years.  The last place he worked was at Tribal Bingo.  He worked there for a little while, then he retired.  He loved to work in his garden and raise potatoes, greens (mustard and turnips) and corn.  He loved spending time with his granddaughters (they were the only ones who could boss him around).  For a few years now, he also spent his time caring for his wife.
He is survived by his loving wife of 35 years, Dorothy (Lossiah) Thompson; a daughter, Sarah Toineeta; a son, Albert Martin Jr. (wife Candy); four grandchildren, Earl Martin, Kara Martin McKinney, Praire "Iwodi" Toineeta, and Teela "T-Dawg" Ross; one great-grandson, Grayson McKinney; one sister, Nan Brown of Robbinsville; several nieces and nephews who loved and will miss him greatly.  He also helped raise Jason Shell of Waynesville; a special friend and cousin, Chantele Lossiah, also survives.
Along with his parents, he is preceded in death by one grandson, Cylas Mychal; three sisters, Geneva Walkingstick, Nellie Driver, and Luzene Thompson; and a brother, James.
Funeral services will be held at Straight Fork Baptist Church in the Big Cove Community on Thursday, Dec. 15 at 2 pm.  Pastor Charles Ray Ball will officiate.  Burial will be in the Lossiah Family Cemetery.  Pallbearers will be Will Tushka, Charlie Blackfox, Matthew Tooni, Kevin Blackfox, Chris Walkingstick, Michael Thompson, and Tom Lossiah.
Long House Funeral Home is assisting the family with the arrangements.  Bruce "Cricket" Martin Jr. is Leroy's great nephew.