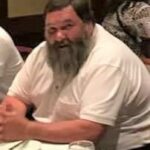 Donald "Kool-Aide" Queen, 53, of Cherokee, passed away Sunday, Dec. 11, 2016. He was born Oct. 10, 1963 in Sylva to the late Daniel Queen and Sherrill K. Queen.
He is survived by four brothers, Hugh Queen, Dodie Crowe, Horace Arch, and Marcell Arch; five sisters, Danette Queen Walkingstick (husband Will), Gaynell Bradley, Candy Martin, Pam Crowe, and Tina Saunooke; one aunt, Lydia Queen; nephews, Laranzo "Boo" Wilnoty (wife Fashia), Arron Fritts (wife Amber), and Jr. Queen all of the home; nieces, Shannon Queen and Onita Crowe (husband Sam); great nephews, Dayton Wilnoty, Laranzo Wilnoty Jr., and Luke Crowe; great nieces, Nya Queen and Bailey Crowe.
In addition to his parents, Donald was preceded in death by one nephew.
Visitation was held on Monday, Dec. 12 beginning at 5pm at the Wolftown Gym where the body will remain until the hour of service on Tuesday, Dec. 13 at 12noon.  Rev. John Ferree will officiate.  Burial will follow at the Queen Cemetery.
Long House Funeral Home is assisting the Queen family.