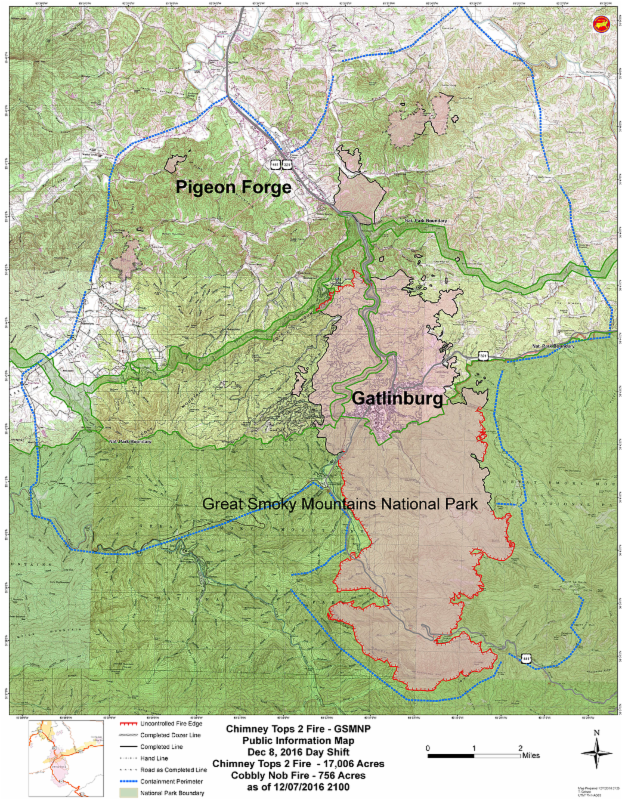 GATLINBURG, Tenn. – The Chimney Tops 2 Fire, which was first reported in the Great Smoky Mountains National Park near Gatlinburg on Wednesday, Nov. 23 at approximately 5:20pm, is now 82 percent contained according to Park officials.  There are now a total of 14 confirmed fatalities and over 176 injuries along with 2,460 confirmed structures damaged or destroyed to the fire.
Two arrests have now been made in the fire which is being hailed as arson.
According to information from the Tennessee Bureau of Investigation, "During the course of the investigation, information was developed that two juveniles allegedly started the fire.  Today (Dec. 7), a petition was filed in juvenile court charging the juveniles with Aggravated Arson. Both were taken into custody and transported to the Sevier County Juvenile Detention Center. At this time the investigation is active and ongoing."
As of Thursday, Dec. 8, the fire covered a total of 17,006 acres, and had the following firefighting personnel working on the fire: 8 hand crews, 34 engines, three helicopters, one dozer, and 406 personnel.
The Southern Area Red Team assumed command of the Chimney Tops 2 Fire on Wednesday, Nov. 30.  The Red Team, the Type 3 Grey Incident Management Team from Colorado, and other firefighters and equipment are on site.
The Town of Gatlinburg plans to reopen for business and to the general public tomorrow, Friday, Dec. 9 at 7am. Major roadways are expected to be open, but some city roadways may remain closed to accommodate utility work. Tomorrow, property owners, business owners, renters or lease holders will no longer be required to enter through a checkpoint.
Great Smoky Mountains National Park is currently working towards opening park roadways on Dec. 9 as well.  If all road hazards are cleared, US 441, Newfound Gap Road, will open from the Gatlinburg Entrance to Cherokee, and Little River Road will be open from Sugarlands Visitor Center to the Wye near Townsend, Tenn.  The Gatlinburg Bypass and Cherokee Orchard Road will remain closed as will all trails within the fire area. The Spur, between Pigeon Forge and Gatlinburg, will be open to the public tomorrow.
"Even though the fire is not quite 100 percent contained, the areas opening to the public have been deemed safe," said Incident Team officials. "The area will continue to be monitored and patrolled. Firefighters will continue to provide structure protection and will maintain a presence in these areas until the fire is 100 percent contained."
The wildfire began burning in a remote location (Chimney Tops) of the Park in steep terrain with vertical cliffs and narrow rocky ridges making access to the wildfire area difficult for firefighting efforts.  On Monday, Nov. 27, continuous exceptional drought conditions and extreme winds caused the wildfire to grow rapidly, causing numerous new wildfire starts from embers carried miles away and downed powerlines in and adjacent to the Park.  The wildfire was determined to be human-caused and is currently under investigation.
 – NPS, One Feather staff contributed to this report