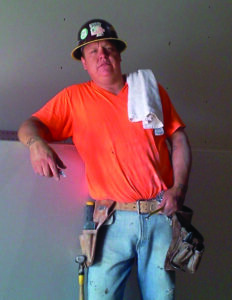 Tony Howard "Fatboy" Standingdeer, 37, of Cherokee, was called to his Heavenly home Friday, Dec. 2, 2016. Tony is the son of Carl "Toad" Standingdeer and Pam and David Cope.  He was born Dec. 6, 1978 in Cherokee.
Tony was a hardworking man.  He was proficient at carpentry work and hanging drywall. He enjoyed the outdoors.  Some of his favorite activities were fishing, camping, and ginseng digging. He was very generous and had no need for airs and graces.  What you saw was what you got, and what you got was a big warm smile, genuine and full of love.
In addition to his parents, Tony is survived by his wife, Shena Dale Standingdeer; three children, Tyra Celeste Standingdeer, Dominique Paige Locust, and a son Tony held very close to his heart Briar Daniel Standingdeer; two grandchildren, Camden Ty Standingdeer and Draelyn Harper Saunooke; three stepchildren, Chance and Dason Bryant, and Madison Backwater; one brother, Jared Standingdeer; one sister, Virginia "Beet" Standingdeer; two nieces, Katlin Roberts and McKinsey Cochran, and two aunts, dear and loving Joan Standingdeer, and Mary Jackson.
Visitation will be held on Tuesday, Dec. 6 at Long House Funeral Home from 6-8 pm.  Funeral services will be held on Wednesday, Dec. 7 at 11am at Long House Funeral Home with Pastor Foreman Bradley officiating.  Burial will follow at the Virginia Standingdeer Cemetery.
Pallbearers include Roy Bradley, Sam Toineeta, Issac "Ike" Long, Mike "Peckerhead" Oocumma, Charles "Charlie" Burgess, June Wolfe, and Neil Owle.