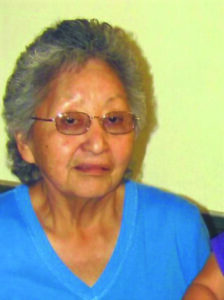 Nancy Jane (Blackfox) Bigmeat, 70, of the Wolftown Community in Cherokee, passed away on Wednesday, Nov. 23, 2016 at the Cherokee Indian Hospital.  Her family was by her side.
Nancy was the daughter of the late Ross Blackfox and Amanda Littlejohn Blackfox.  She was a graduate of Chilocco Indian School of Chilcocco, Okla.  Nancy retired from the Tribe having worked at the Tsali Manor for 20 years and the Cherokee Indian Hospital in the decades passed.  She was an avid Bingo player who loved the game and was a foster mother of sorts to many. She will be missed by those that knew and loved her.
Nancy is survived by her children, Jeff Blackfox, Noel "Coon" Bigmeat, John Bigmeat, Wesley Wildcat, Elizabeth "Lish" Oocumma, Alexa Armachain and Cain Oocumma; grandchildren, Kristan Blackfox, Cassandra Blackfox, Corneila Rattler, Kyle Bigmeat and Keith Bigmeat; great grandchildren,  Dylan Wachacha, Ethan Armachain; and two special grandchildren, Shaelynn Inoli Postoak and Hayven Inoli  Johnson. Also surviving are sister, Sarah Blackfox Wildcat, and brother, Wiggins Blackfox; and one aunt, Sallie Reed.
Along with her parents, Nancy is preceded in death by husband, Robert Bigmeat; children, Christine Lynn Bigmeat, Carrie Leigh Bigmeat, Justin Blackfox, and Linda Armachain; and brothers, Wesley Blackfox, and Adam Blackfox.
Funeral services were held at the Macedonia Baptist Church in Cherokee on Saturday, Nov. 26 with Bros. Dan Conseen and Merritt Youngdeer officiating.  Burial was in the Inoli Cemetery just beyond brother Wiggin Blackfox's homeplace along Tsali Inoli Road by the Church.  Pallbearers were among the friends of the family.
Long House Funeral Home assisted the family in the final arrangements for Nancy.