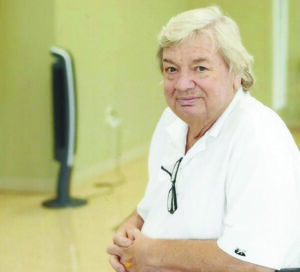 Steve Harrison Smith, age 68, of Alcoa, Tenn., passed from this life on Tuesday, Oct. 25, 2016.  Steve was born in Maryville, Tenn. on April 18, 1948.  He was preceded in death by parents, Henry Harrison Smith Jr. and Ruth Arzella Sauls Smith.
Steve, an enrolled member of the Eastern Band of Cherokee Indians, was passionate about his family genealogy.  He was able to share with family his research of their Cherokee roots all the way to Cherokee County, NC and the Qualla Boundary.
He was a veteran of the U. S. Army after early years attending Everett High School and the University of Tennessee.  He is survived by his sons, Joppa Smith and Seth Smith of Grand Junction, Colo.; sisters, Carma Budd of Alcoa, Tenn., Donna Stephens (Don) of Jefferson City, Mo., Bobbie Bradley of Alcoa, Tenn., and Kay Swicegood (Tom) of Louisville, Tenn.; and numerous nieces, nephews, cousins and their children.  Special friends include Mike Ross, Raphael Trenpo and Darrell Millsaps.
Family and friends assembled for graveside services and interment on Tuesday, Nov. 1 at the Tennessee Veterans Cemetery in Knoxville, Tenn. In lieu of flowers, memorial donations may be made in Steve's name to the Juvenile Diabetes Research Foundation at https://www.jdrf.org/donate/ or Disabled American Veterans Charitable Service Trust at https://cst.dav.org/donate/.
All funeral arrangements were made by Foothills Funeral Home.