By SCOTT MCKIE B.P.
ONE FEATHER STAFF
The Cherokee Indian Hospital won the top award as the 4th Annual SOAR (Success in Operations, Accountability, and Reporting) Awards were given during Tribal Council on Thursday, Nov. 3.  The Cherokee Indian Hospital Integrated Project Delivery Team, responsible for the construction of the new hospital facility, was given the Chief Noah Powell Fiscal Excellence Award.
"The Cherokee Indian Hospital Authority Integrated Project Delivery Team was assembled to lead the new medical facility construction through the contract process, building construction and occupation of the new $80.5 million project," read the nomination which resulted in the award.  "The Integrated Project Delivery approach encouraged contractors and subcontractors to be more aware of their costs.  It encouraged all team members to meet deadlines and hold each other accountable."
Casey Cooper, Cherokee Indian Hospital chief executive officer, commented, "It's a tremendous honor to receive this award.  Years ago, I remember Ray Kinsland telling me a story about Noah Powell and what a steward Noah Powell was of the Tribe's resources and how he would walk to the store when he was going to buy his own goods because he refused to use a tribal vehicle to do personal business."
He recognized the efforts of Carmaleta Monteith, Cherokee Indian Hospital Authority Governing Board chairperson, as well as the entire Board.  "She (Monteith) said we can build beautiful buildings, but come up with a way to build a building so that everybody's successful.  Come up with a way that avoids all of the fighting and strife that happens with large construction projects where people point fingers at each other and the architects blame the construction manager and the construction manager blames the architect and the project manager is there to referee."
Cooper said the Integrated Project Delivery Team partnered early on with Georgia Tech University and started studying the new method.  "As a result of that, we launched this process and we found really good partners who were willing to share in the risk and the reward.  We wanted to have a model that really embraced transparency and cooperation."
During Thursday's award ceremony, three programs were given Fiscal Commitment Awards including: Munis Implementation Team, Cherokee Tribal EMS, and the Jessie Owle Dugan Native Plant Nursery Facility.  Three programs were awarded Fiscal Recognition Certificates including: Office of Information Technology Help Desk, EBCI Treasury, and the Cherokee Indian Hospital Financial Reporting Team.
On the awards themselves, Sharon Blankenship, Office of Internal Audit chief audit executive, related, "This is designed to highlight programs that have demonstrated significant fiscal efforts and accomplishments for our Tribe."
She said that each nomination is reviewed by the Audit Committee, and this year there were a total of seven programs nominated.  "The Audit Committee chose to name the highest level award in honor of our 21st Principal Chief Noah Powell, a very well-respected man and leader of our Tribe who believed in his people and what they could accomplish."
During the ceremony, Rebecca Claxton, Office of Internal Audit audit manager, read parts of the program's nominations.  Following are parts of those from the other six winners: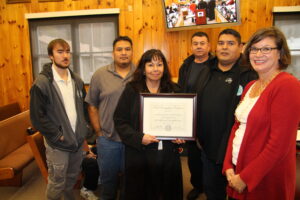 Office of Information Technology Help Desk – Fiscal Recognition Certificate
"The Office of Information Technology HELP Desk provides technical assistance for 180 tribal programs and 1,000 in-users…the IT Help Desk has adopted and implemented policies and procedures which have increased customer satisfaction through quicker response and timely follow-up of in-user issues."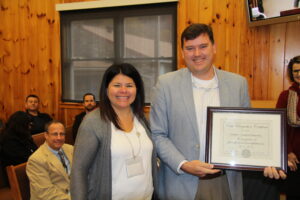 EBCI Treasury – Fiscal Recognition Certificate
"The EBCI Treasury has made significant advances in financial reporting including the compilation of a true, comprehensive annual financial report to provide great financial transparency."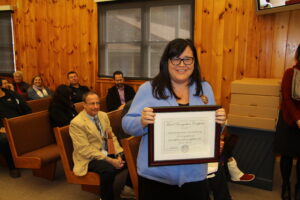 Cherokee Indian Hospital Financial Reporting Team – Fiscal Recognition Certificate
"The Cherokee Indian Hospital Finance Team developed and implemented effective strategies and improved processes for more timely and accurate financial reporting.  As a result, for the FY15 reporting year, there were no material weaknesses identified in their audited financial statement."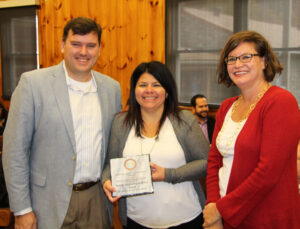 Munis Implementation Team – Fiscal Commitment Award
"The Munis Implementation Team, through tremendous time and effort aside from their regular duties, has led the implementation of the Tribe's Enterprise Resource Planning System that enhances financial transparency.  The recent modules implemented included: business licenses, human resources, and payroll.  They've gone live with little or no delays or interruptions and within the established deadlines."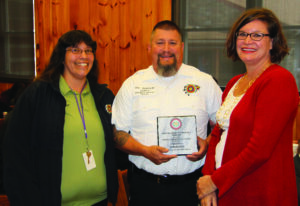 Cherokee Tribal EMS – Fiscal Commitment Award
"Cherokee Tribal EMS is a 24/7 operation continually striving to improve program operations to meet the needs of the community and the Tribe.  While call volumes have increased, response times have decreased.  Tribal EMS is highly regarded in the industry and is known as one of the top training facilities in western North Carolina."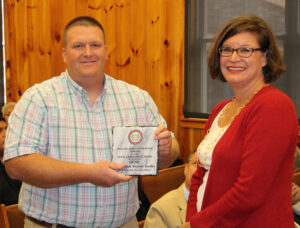 Office of Environmental and Natural Resources Jessie Owle Dugan Native Plant Nursery Facility – Fiscal Commitment Award
"Since opening, the program has produced 150,000 one-gallon plants; 5,000 tomato plants; and 5,000 pepper plants.  Growing plant stock, instead of purchasing, has resulted in an estimated cost savings of $569,400 over three years.  Plants from the facility have been used on five tribal projects.  The program is also regarded for its community outreach to promote self-sustained food sources."