By SCOTT MCKIE B.P.
ONE FEATHER STAFF
The TERO (Tribal Employment Rights Office) of the Eastern Band of Cherokee Indians is now an independent entity and no longer a program of the tribal government.  During its regular session on Thursday, Aug. 4, Tribal Council approved legislation, submitted by the TERO Commission, that makes the office "an independent and autonomous entity under the direction of the TERO Commission".
"I'm very excited about it," Mara Nelson, TERO manager, said after the legislation's approval on Thursday.  "I feel like it's really going to help us because there's a need that's not being met.  Tribal employees need somewhere to go to, and when they go there, they want to make sure that they're getting a fair, unbiased decision maker, and that's our Commission.  The Commission is not going to be under any kind of political influence, and that's something that is really needed."
She said the decision was historic for the Tribe.  "It puts us up there at the national level with other TEROs across the country.  Many TEROs are independent."
During discussion on the legislation, Kevin Jackson, TERO Commission chairman, said, "All of the TEROs that we've looked at are structured in the way that we're going to propose to you guys.  They're independent, and they uphold the law.  It's a very important piece in Indian Country."
He said the TERO laws for the Tribe are of the utmost importance.  "It affects the employment of our people.  It supports the entrepreneurship and gives them equal opportunity for contracts."
Funding for the office will come from two sources – contract fees and tribal funding.  "Every covered entity that obtains a tribal contract shall pay a fee of 1.75 percent for all contracts in excess of $10,000," the passed ordinance states.
Wolfetown Rep. Bo Crowe made a motion, which was passed, to approve a yearly budget funded by the Tribe and to strike a part of the proposed ordinance which originally called for .5 percent of the gross gaming revenue from Harrah's Cherokee Casino Resort to be paid to TERO.
Tribal Council Chairman Bill Taylor noted, "We've got something here that will take TERO to the next level, and I'm in full support of it."
Jackson said the TERO program is also working on apprenticeship programs for young EBCI tribal members wishing to enter various fields such as plumbing or electrical work.  "Along with the apprenticeship program, we've working on developing a program for our addicted and getting them more acclimated into the workforce.  There has to be a support chain there, and we're employee rights; we can help with that effort."
Big Cove Rep. Teresa McCoy commended the TERO Commission for their apprenticeship program.  She commented on the contract fee, "I do believe that the 1.75 (percent) from contracts going back to TERO could probably cover most of the budget that you're going to need…I think TERO can only grow and offer more opportunity to young men and women."
The ordinance passed on Thursday was a substitute of one submitted earlier.  During discussion on the issue, several tribal leaders requested more time to review the substitute legislation.
"There are quite a few changes here that I don't know we've all had a chance to fully look into," said Principal Chief Patrick Lambert, "…but, I do support the concept of this.  I want to make that very clear, and we'll work very hard to make sure that these things happen."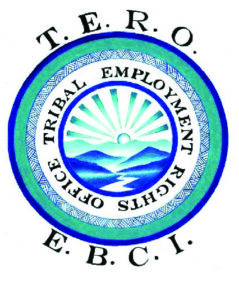 On the contract fees, he commented, "This is going to drive up the price of contracting by a good amount…I don't know if imposing an additional fee is right in the sense of creating more cost that is not currently there."
Jackson responded that imposing contract fees is standard practice for many TEROs across Indian Country.  "I don't look at it as raising the contracting prices.  You're investing back into your people."
Birdtown Rep. Travis Smith said the contract fees will not affect smaller businesses.  "Our smaller vendors that do depend on just TERO, it's not going to affect those people.  Anybody that has a contract that is $10,000 or less, they shouldn't have to worry about that.  It's something that would be hurtful to them, and we need to look after our smaller vendors that do use this program."
Painttown Rep. Tommye Saunooke, who voted to table the legislation, said she needed more time to review the substituted ordinance.  "As a member of this legislative body, I have not had time to read this and study it, and I can't support it until I study it.  I won't do that.  That's an injustice to my people."
Yellowhill Rep. Anita Lossiah commented that she feels it is vital to have a neutral body where employees can file civil rights claims.  "This is going to be very beneficial tribal-wide.  Also, the implementing processes for better job training, for job skills is vital here.  Apprenticeships for trades are vital."
Curtis Wildcatt, TERO compliance officer, told Council there are 300 TEROs across Indian Country.  "Ninety-five (95) percent of those don't have the economic success with their gaming.  They put a percentage in there for contracts."
He praised the program and its ability to help the Cherokee community.  "This has always been the people's program.  It's always been their opportunity to gain and grow a business, to have a higher standard of living."
The legislation will become law upon ratification by Chief Lambert.